Born William Ford Robinson Stanley on Monday 2nd February 1829 and baptised Wednesday 4th March 1829 at St Mary's Church, Islington.
William's parents were John Stanley, a mechanical engineer & Selina Hickman who married in 1826 and at the time of William's birth lived in a house on the site of the current Highbury Station. The Stanley's ancestral home however was at Cumberlow Green, Buntingford, Hertfordshire.
William was named after his Uncle William Ford Hickman who was his Godfather.
Schooling
William's formal schooling was very limited. He spent most of his youth in poverty, struggling to gain even an intermittent education and was mostly self taught. As well as mathematics, he taught himself mechanics, astronomy, music and French. With a little assistance from his Godfather.
However despite his intermittent education he went on to attend lessons in technical drawing at the London Mechanics' Institution (LMI) which is now known as Birkbeck College.
William left his school years behind at the tender age of 14 in order to help his father. But attended engineering and phrenology lessons at the LMI in the evenings when he enrolled in 1843. This had been paid for by his Godfather when William had run away from home in order to escape the poverty and to live with his uncle.
Work and later life
In 1849 he worked with his father John Stanley at an engineering works in Whitechapel. Though his father was a skilled tradesman he had no real head for business. While working with his father William made improvements to the design of the tricycle and by 1854 had created his own business at 3 Great Turnstile, Holborn, London as a worker in metal and ivory and a scientific instrument maker.
His 'Panoptic Stereoscope' introduced in 1855 proved profitable and the business expanded with the addition of another shop at Holborn Bars.

At the 1862 International Exhibition he was awarded a medal for his straight line dividing engine. This award brought him considerable extra business and laid the foundations for later large-scale business success.
William's father passed away on Thursday 31 August 1865 and was interred at Highgate Cemetery, having lived long enough to see his son well on the way to future success.


He commenced work as an author and in 1866 published 'A Descriptive Treatise of Mathematical Drawing Instruments' which became the standard work on the subject reaching a seventh edition in 1900.
Further branches of the business were opened at Lincoln's Inn, London Bridge and Norwood and the firm became W F Stanley and Co in 1900 with a capital of £120,000.

| | | |
| --- | --- | --- |
| | | |
|      Theodolite  | Anemometer    | Spirometer |
William made substantial improvements to the theodolite and other surveying instruments and his numerous inventions included a meteorometer patented in 1867 which recorded simultaneously wind direction and pressure, temperature, humidity and rainfall. There was also an integrating anemometer (1883), a coin in the slot machine (one of the first of its kind) for automatically measuring people's height (1886) and a spirometer for determining lung capacity (1887). He had a considerable interest in photography and made improvements to camera lenses.
As well as his many scientific interests William involved himself in painting, wood carving, architecture, music and drama and he lectured widely. He composed part songs and had some of his oil paintings have been exhibited at the Marlborough Gallery.
He designed his own house, Cumberlow, in South Norwood to which he retired in later life. Sadly the house was accidently knocked down in 2006 which caused an outcry by local residents, and members of the William F Stanley Trust.
As an author he was quite prolific and amongst his works might be mentioned 'Photography Made Easy' (1872), 'Stanley's Pretty Figure Book Arithmetic' (1875), 'Experimental Researches into the Properties and Motions of Fluids' (1881), 'Surveying and Levelling Instruments, theoretically and practically described' (1890), and 'Joe Smith and his Waxworks' (1896).
In Croydon and Norwood he took a prominent part in public life and many local hospitals, technical schools and other charities benefited from his generous philanthropy.
Near the bottom of South Norwood Hill close to Norwood Junction railway station you can still admire the excellent Stanley Halls designed and paid for by William Stanley himself and first opened to the public on Monday 2 February 1903 at a cost of £13,000. At first there was a Hall and Art Gallery but another hall was added in 1904.
In 1907 adjacent to the north of the halls the Stanley Technical School was opened and became an immediate success. William later dedicated the buildings for public use and alongside that he gave an endowment to the value of £50,000"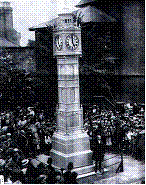 A cast-iron clock tower was erected in South Norwood at the junction of Station Road and the High Street in 1907 to mark the golden wedding anniversary of  William and Eliza Stanley (Savory) and this is still in place. They had married on William's birthday in 1857. The clock tower was financed by local public subscription as a tribute to William's generosity.
The Stanley Halls continue in use for a variety of purposes now administered by the local authority and a blue plaque on the facade records brief details of William Ford Robinson Stanley. These interesting and singular Edwardian buildings deserve to be better known. In recent years theft and vandalism have taken their toll but there is still much to be seen. The busts of Darwin, Faraday and Co over the entrance to the main hall have been stolen and William Stanley's bust over the door to the former Art Gallery is no longer there. Beside the door a plaque even now advertises that admission to the Art Gallery is free. No doubt some of William's paintings once hung there.
        
| | | | | | |
| --- | --- | --- | --- | --- | --- |
| | | | | | |
| Gladstone |  Beaconsfield | Darwin | Faraday |  Dickens |  Tennyson |
Inside the main hall, grills for the warm air ventilating system devised by William can still be seen and the heating boilers are still in the basement. Throughout the buildings the interior detailing and woodwork is excellent and there are some very nice tiles. Over the proscenium arch in the main hall an inspiring slogan is emblazoned which in several ways expresses ideals William Stanley would one feels sure like to be remembered by.
Though he was named William Ford Robinson Stanley at birth, William dropped his third name 'Robinson' in later life after his chequebook was stolen and he altered his signature as a security measure.
| | | |
| --- | --- | --- |
| | | |
| Eurostar,London/Paris/Brussels   | Credit & Debit Cards   | Baroness Margaret Thatcher  |
William was something of a futureologist too. Making numerous predictions such as that sometime in the future electric trains would pass through a tunnel under the English Channel, enabling easy travel between the UK and mainland Europe. We would one day be using small plastic cards instead of cash to pay for our transactions. One day women would play a much more prominent role in public life.     
| | | |
| --- | --- | --- |
| | | |
| Answer Machine  | Fox Hunting | X-Ray Image |
Telephones would be connected to Gramophones to make answering Machines. Fox Hunting would be banned, and that one day we'd be able to photograph the inside of the human body.
William Ford Stanley passed away in his sleep at 01:45 on Saturday 14 August 1909 following a long illness, he had suffered kidney failure and a subsequent heart attack. His beloved wife Eliza Ann died several years later on Saturday 26 April 1913. They have both been laid to rest together in a quiet plot at the Beckenham Cemetery, Elmers End, in an area that was reserved for parishioners of  St John's Church.